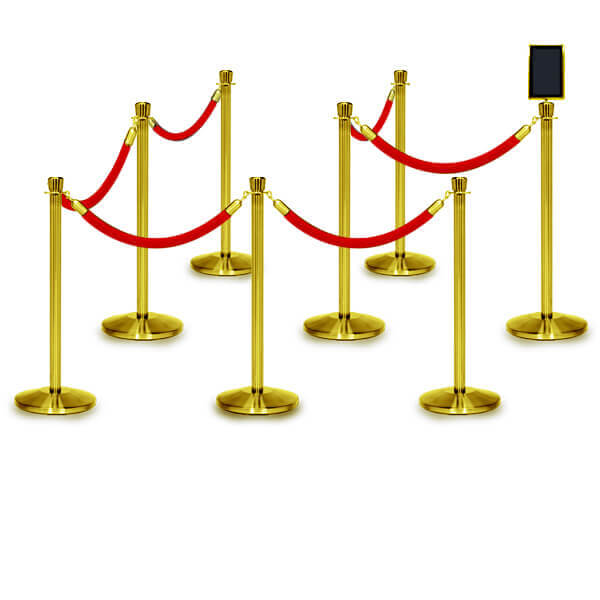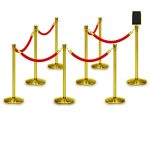 Rope Barrier 8 Pack – Polished Brass Rope Posts-6 FT Rope & Sign Frame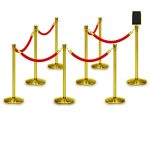 Rope Barrier 8 Pack – Polished Brass Rope Posts-6 FT Rope & Sign Frame
$1,054.00
$1,054.00
Bundle includes:
(8) Economy Rope Stanchions – RopeMaster Crown Top, Sloped Base in Polished Brass Finish
(6) 1.5″ Foam Red Velour Ropes, 6FT with Polished Brass Snap Ends
(1) 7″ x 11″ Vertical Standard Sign Frame for Rope Stanchions, Polished Brass (Acrylic Inserts not included)
Description
Request A Quote
Description
Product Overview
The RopeMaster range offers the sophistication of a traditional rope stanchion at an affordable price. Available in 3 post top styles along with 2 base styles there is a model available for any occasion. This model comes in the same 9 stock finish options as our Elegance range. This stanchion is the only one in its price range with a forged rope loop making it indistinguishable from higher priced stanchions. Supplied with a full circumference floor protector to prevent floor damage. Crown and flat top styles can be tapped to accept post top signage but ball cannot be fitted with signage. This post can be weatherized for outdoor use.
If you would like to view a product like this one check out our Elegance – Flat Top – Fixed Base.
For more information about all our other products like this, please view our full range of Post & Rope Stanchions.