Stanchion Panels and Banners: Turn Your Queue into Effective Advertising Opportunities
JakeH
Stanchion Panels and Banners: Turn Your Queue into Effective Advertising Opportunities
In the world of business, opportunities to engage with customers are like gold. Every interaction is a chance to make an impression, convey a message, or create a lasting memory. This is where the often-overlooked components of stanchion panels and banners step into the limelight, transforming your queue into an effective advertising space.
Stanchion Panels:
Stanchion panels, at first glance, might seem like simple barriers that guide people through queues. However, they are much more than that. These versatile panels serve a dual purpose – they efficiently organize queues and provide a unique opportunity for businesses to communicate and advertise.
A Solid Barrier with a Twist
Panels are the unsung heroes of crowd control. They create a barrier between runs in a queue, ensuring order and efficiency. But what sets them apart is their adaptability. With our unique collar attachment system, these panels can be effortlessly fitted to most brands of retractable belt barriers, requiring nothing more than the Allen key provided. This flexibility means you can easily incorporate them into your existing queue management system.
Customization at Its Best
We understand that every business is unique, which is why our stanchion panels offer a plethora of customization options. Choose from clear, frosted, tinted, or solid color insert materials to match your brand's aesthetics. The versatility doesn't end there. If you have specific messages or promotions you want to convey, you can easily attach paper posters to the frame by sandwiching them between two sheets of clear acrylic. This means your advertising opportunities are virtually limitless.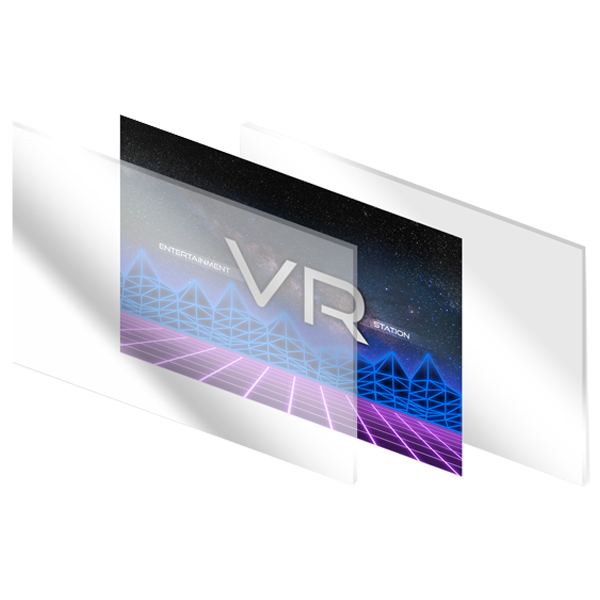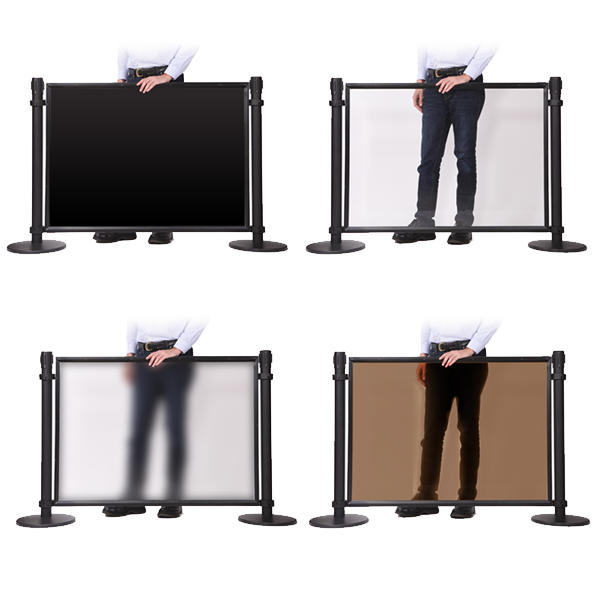 Built to Brave the Elements
Stanchion panels are not limited to indoor use. Made from durable aluminum, these frames are built to withstand the rigors of outdoor conditions. So, whether you're defining an outdoor dining area, directing foot traffic at an event, or simply adding an extra layer of branding to your storefront, you can trust that our panels will endure the elements.
Stanchion Café Banners:
Café banners, sometimes known as restaurant banners, have long been a staple for outdoor dining areas. They not only create a sense of separation from the bustling street but also offer versatile applications both indoors and outdoors. These banners are like the Swiss Army knives of crowd control – they can serve as windbreaks, privacy screens, and, most importantly, platforms for marketing and advertising.
Durability Meets Aesthetics
Our banners are crafted from high-quality 10-ounce vinyl. This material is not only durable but also weatherproof, ensuring that your message remains vibrant and intact even in less-than-ideal weather conditions. Cleaning is a breeze, allowing you to maintain a pristine appearance.
Custom Color and Printing
When it comes to branding and advertising, color is your ally. Our banners provide a canvas that can be printed on one or both sides with an unlimited number of colors. This means you have the creative freedom to convey your message in the most eye-catching and engaging way possible. In addition to plain colors we can display custom messaging or images on the banner making them a great way to increase brand awareness. Whether you're promoting daily specials, announcing upcoming events, or simply reinforcing your brand identity, the vibrant colors and customization options will do the talking.
Easy Setup, Every Time
We know that time is of the essence, especially when setting up outdoor dining spaces or preparing for an event. Our café banners are designed for efficiency. A simple beam slides through the top and bottom loops in the banner, connecting to the stanchion's rope loop using snap ends. The lower beam is connected to a 'floating' rope loop that slides down the stanchion post. This design ensures that setting up your banners is quick and hassle-free, allowing you to focus on what truly matters.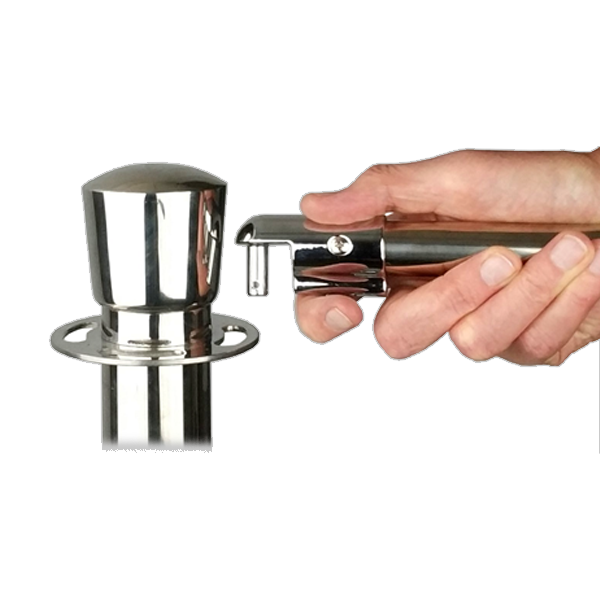 Versatility Across Brands
We understand that businesses have diverse preferences when it comes to crowd control equipment. Our café banners are designed to be compatible with most brands of stanchions, ensuring that you can seamlessly integrate them into your existing setup.
Conclusion
In conclusion, stanchion panels and café banners are not just functional crowd control tools; they are powerful advertising opportunities. They allow you to efficiently manage queues while also communicating your brand message effectively. With customization options, durability, and ease of setup, these components are essential for businesses looking to make every interaction count. Whether you're a high-end restaurant or a casual café, the potential for enhancing your customer experience and boosting your brand's visibility is at your fingertips.
For more information about the full line of merchandising products, please visit our Banners & Panels category and explore the wide range of options available.